Where does Haven Totes get their food from?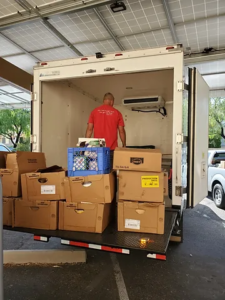 Where does our pantry food come from? How do we get it?
I have been asked how we get the food into our pantry and is it costly. Of course, we do purchase some items however in recent weeks and really months we have not been able to due to the unavailability of items and stores not allowing us to. We typically purchase bread, canned meals, peanut butter, or other proteins.
The Community Food Bank and Midwest Food Bank provide us with many items on a regular basis. The Community Food Bank will deliver to our pantry once a month of items we order, for example meat, milk, fresh or frozen fruit, and canned goods. We pick up a pallet or more of items from the Midwest Food Bank once a month. The items from Midwest vary greatly however we can count on them to provide many items that we otherwise don't get, for example, toilet paper, paper towels, bottles of water or juice, canned goods, coffee, and candy. One of our volunteers also picks up food on a regular basis from the Community Food Bank and those items also vary tremendously based on what the food bank has been given.
A major way we get our food and particularly produce and dairy are to rescue from grocery stores. Currently, we are rescuing food at least four days a week. Several Fry's Food Stores, Target, and Safeway are blessing us regularly with so many items. We get food items that are close to the sell-by date or damaged in some way. Most of the items we receive are used in the pantry however there are times when we cannot use an item so we will pass it along to other organizations such as Gospel Rescue Mission, Casa Maria, or The Salvation Army. We even attempt to use the older produce for animals by distributing it to people with chickens, pigs, and even a bird sanctuary south of town.
We are also blessed by non-food items that fly off the shelf. Items like laundry or dish soap, cleaning supplies, coloring books, makeup, vitamins, diapers, and even pet food. Certainly not an all-inclusive list although many items that our families need and can use. Can you imagine how excited they are when they see a large bottle of liquid laundry detergent? These items may be damaged, open, packaging torn, or in some way not good for selling to a customer. We have recently moved these items from within the pantry to portable shelves that we can move in and out of the pantry as we discovered there was so many items it takes our families a while to figure out what is best for their needs. This has made the pantry flow more smoothly and given families more time to select the right items.
We are so blessed by our volunteers that show up every Monday to rescue from five stores. We have grown to rescue more on Friday's now too so we have a smaller team to help with that. We load at the store then return to the pantry and weigh all the items to report back to the Feed America program and Community Food Bank. Once weighed we put frozen and perishable items away first then go through the other items and determine if we should keep them, route them to another agency or in some circumstances through it away (open items that may be contaminated).
Karen and I are always willing to answer questions, give tours of the pantry, and talk to groups interested in: volunteering, setting up a pantry of their own, contributing money, arranging food drives or other topics related to food insecurity here in Tucson. Please let us know if you have questions or would like us to speak at your organization.
Thank you for your support.
Dave