Haven Totes & the Coronavirus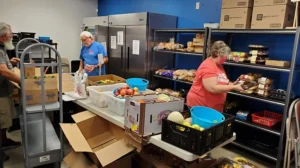 We are starting a new blog page to keep everyone updated on happenings at Haven Totes. As you are aware, the schools we serve have been closed until at least the start of the school year. That means that our Haven Totes Church Partners have suspended their weekend food distributions meant to provide nutritious food items to the over 500 children served by Haven Totes. Although the weekend food distributions have been discontinued, our Haven Totes Family Food Pantry is still open. Families with children from the 27 schools we serve, may receive food items such as; frozen meat, produce, bakery, dairy, and canned & boxed goods. Families may sign up and visit the Food Pantry once each month.
Our food pantry is located on the campus of Fountain of Life Lutheran Church, located at 710 S. Kolb Road, and is located in the Southwest corner of the property. Please be assured that Haven Totes, its Board of Directors, and all Volunteers are making your visit to our Food Pantry as safe as possible by utilizing recommended sanitizing procedures. Additionally, we're limiting the number of individuals in the pantry at any given time.
Haven Totes has a wonderful selection of food items for you to choose from. The food pantry is open the first through the fourth Wednesday of each month from 3:00-6:00 PM with the last entry being at 5:30 PM. The pantry is also open on the second and fourth Saturday of each month from 9:00-12:00 AM with the last entry being at 11:30 AM. Should you have any questions about our food pantry, please contact Karen Stewart at 520-661-0370. Haven Totes has a lot of exciting news to share in the coming months. This blog page will serve as a mechanism to keep everyone informed and to share personal stories of how Haven Totes has impacted the lives of those we serve and those who suffer from food insecurity (hunger). Be sure to check back often as updates will be periodically posted on this page. It's Haven Totes wish that everyone stay safe during this difficult time and please know that we're here to help with food and nutritional needs for your children. Blessings, Val Clewley, Executive Director Haven Totes, Inc.